Monday, February 6 – Tuesday, February 7
7086 – Tending the Right to Life Garden, Part 1
7087 – Tending the Right to Life Garden, Part 2
NRLC's Director of Education and Research, Dr. Randall K. O'Bannon, reminds us that education is a lot like gardening.  Today, Carol reminds us that our efforts are having a profound impact on society's views toward abortion.
Wednesday, February 8
7088 – Black Pro-Life Pioneers: Kay Coles James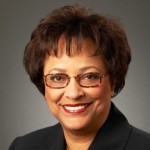 As part of Black History Month, we are discussing some of the many black pioneers who have made a tremendous impact on our pro-life efforts.  Today, Carol looks at former National Right to Life Director of Public Affairs, Kay Coles James.
Thursday, February 9
7089 – Register to Vote, It's Your Duty
Carol reminds us that it is the duty of every right-to-life activist to register to vote and become educated about the candidates and their positions on the right-to-life issues.
Friday, February 10
7090 – The Better Angels of Our Nature
Carol eflects on the life and work of President Abraham Lincoln as we prepare to celebrate the anniversary of his birth on Sunday.
Resource Links: